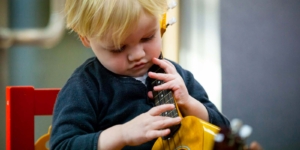 A workshop for parents of children with special needs – no musical experience or ability required.
This interactive workshop will show parents of children with special needs – including those diagnosed with autism, intellectual disability and language delay – how to use music to enhance their child's communication skills. We understand that not every parent feels 'musical', so this fun session is to help you feel comfortable to use music with your child.
The workshop will enable you to:
Understand the basic concepts of music (such as melody, rhythm, harmony, texture and form) and how these can be used to support your child.
Competently use 3 songs to engage your child with.
Select suitable repertoire and to find resources and follow-up support.
There is a large body of research that describes how music affects the brain and how it can assist children with special needs. Music activates many areas of the brain and has been found to positively affect early childhood development, learning and daily functioning. These functions include attention, listening, speech production, emotions, motor, memory, arousal, vision and decision making. This workshop will focus on using music to enhance pre-verbal and verbal communication.
About the presenter
Iani Sujono, Registered Music Therapist
Iani is a Registered Music Therapist with over 16 years' experience. Her passion lies in working with children with special needs including those with Autism Spectrum Disorder and intellectual disability, especially in developing their relational, communication and engagement skills. She uses clinical improvisation to connect with children at various levels of ability. Goal-focused, patient and experienced, Iani has helped many children to reach their full potential.
WORKSHOP DETAILS
Saturday 22 October 2016
1.30pm – 4.30pm
McKinnon Room
Club RydeX
724 Victoria Road Ryde
Free on-site parking
RSVP by Friday 7 October 2016
Fee: $30 per participant
(max 20 participants)
Contact:
Iani Sujono
0416 288 917
iani@soundexpression.com.au