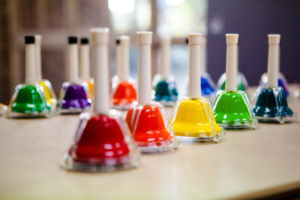 Incorporating Music Into Your Work With Children and Adults With Disability
This workshop is specifically designed for educators and allied health professionals working with children in early intervention, school aged children and adults with disability. No musical experience or ability is required to attend this workshop.
This practical workshop will help you to incorporate music into your work with children and adults with disability.
There is a large body of research that describes how music affects the brain and how it can assist children and adults with disability. Music activates many areas of the brain and has been found to positively affect brain development, learning and daily functioning. These functions include attention, listening, speech production, emotions, motor skills, memory, vision and decision making.
This workshop will help you to extend your creativity in using music at your work place. It will look at the concepts of music and help you to use music in a functional way to address developmental goals such as pre-verbal & verbal communication, social engagement skills, self-regulation and confidence.
The workshop will enable you to:
Understand the basic concepts of music (including melody, rhythm, harmony and form) and how these can be used to address developmental goals.
Competently use 5 songs within your work setting.
Select suitable repertoire and to find resources and follow-up support.
About the presenter – Sound Expression
This workshop will be presented by the music therapy team at Sound Expression. With Iani Sujono as Director, Sound Expression has an expert team of professionals who are highly     qualified in their fields and have extensive experience working with children and adults with special needs. We offer music therapy as well as music lessons for children and adults with special needs. Sound Expression is a Sydney based company operating from a clinic in North Ryde.
Workshop Details
Saturday 7 May 2016
10am – 4pm (9.45am registration)
Hermitage Room
Ryde Eastwood Leagues Club
117 Ryedale Road, West Ryde
Free on-site parking
2 minutes from West Ryde train station
Fee: $160 incl GST
RSVP by Thursday 21 April 2016
(max 20 participants)
Contact:
Iani Sujono
0416 288 917 or
iani@soundexpression.com.au