This article was originally published in mycarespace and it has been reproduced with permission from the author Nicole Gamerov.
Michael Harrison is stepping in for his wife Sarah today. Together they have 3 boys: Rylan aged 10 years, Eamon aged 4 and Darcy aged 3. All the boys are on the autism spectrum and each of them have other special needs. Rylan has high functioning Autism Spectrum Disorder (ASD), coupled with Attention Deficit Hyperactivity Disorder (ADHD) and Sensory Modulation Disorder (SMD). Eamon also has ASD, Verbal Apraxia and ADHD and Darcy has a severe form of ASD. A common issue for children with these special needs is anxiety. All three boys suffer from anxiety.
We meet at Sound Expression, the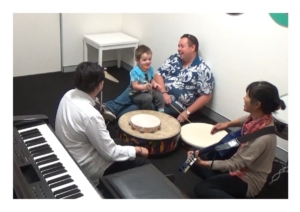 music therapy clinic of Iani Sujono, a registered music therapist who is working with the Harrison family to navigate and overcome some of the challenges that their children face. More about Iani and Sound Expression later.
It took Michael and Sarah several years to receive a diagnosis for Rylan, but with their second and third sons, they knew the signs and what needed to be done. After Darcy was born it became evident he was severely autistic – he was diagnosed by the age of 2.
At the time Michael and Sarah just thought 'Ok, here we go again.'……but at least this time they were more prepared for what lay ahead. Many parents deliberate over whether they should have their child assessed and get a diagnosis. It can be an agonising decision. We believe the single most important question to ask is: will it help us get the right intervention our child needs as quickly as possible? If the answer is yes, it should be a no brainer. The evidence of early intervention is irrefutable….
Back to Darcy and his father. Each of the kids attend music therapy at Sound Expression once a week. It's a 40-minute drive each way, but Michael says it has 'helped massively' for their three boys. Not only has it helped with their confidence and social interactions but it 'awakens something inside them, it helps develop their neural pathways'. For their older child, Rylan who has guitar lessons, his confidence has rocketed amazingly and his anxiety has decreased.  For the other 2 boys, their music therapy also incorporates elements of speech therapy and occupational therapy. The day I join Iani, Jon (a music therapy student), Darcy and his father, aspects of speech and occupational therapy are incorporated into the session in a fun and non-confrontational way – helping Darcy count to ten, incorporating other pre-reading skills, like reciting the alphabet.
Other outcomes that Iani focuses on in her session with Darcy are concentration skills, listening ability, separation anxiety, connecting with others, self-regulation and independence.  Darcy's transformation during the session is visible – at first he is attached to his father, unable to make eye contact and visibly uncomfortable – by the end he is engaging with everyone, smiling and not nearly as anxious.
So, what support structures do the family have in place?
The family has found the Catholic school system very supportive. Community supports, like the Luke Priddis Foundation, set up by a Penrith Panthers player by the same name, provides strong support for families like the Harrisons. Mike has travelled to the US and his wish is that there is the same level of awareness of ASD as there is in the US.
When I ask Michael how does his wife cope, his face softens and it's evident from his body language just how much he admires and appreciates what Sarah is doing – he says 'she does an amazing job, but there are low moments and many challenges but we all pull together and do what we have to do to support the boys in the best way we can."  
Music therapy and Iani Sujono (Sound Expression)
Iani is a Registered Music Therapist with over 18 years' experience working within the disability and aged care sectors. Iani has worked with early childhood intervention programs, community disability groups, special needs schools, aged care facilities as well as private practice, and uses the Nordoff-Robbins improvisational approach in her work. Her passion lies in working with children with special needs including children with Autism Spectrum Disorder.
Music therapy is the intentional use of music by a university-trained professional who is registered with the Australian Music Therapy Association. Registered music therapists draw on an extensive body of research and are bound by a code of ethics that informs their practice. Music therapy is different from music education and music as entertainment as it focuses on health, functioning and wellbeing. The peak body for music therapists in Australia is called the Australian Music Therapy Association.
Thank you to mycarespace for your permission to reproduce this article. Mycarespace is an online platform which provides easily accessible, independently reviewed information that allows people to make important decisions about their health and lifestyle.